In this section we publish the Jury 
of the festival edition 2017.
The jury 2017

The Jury of the Animation section
ANTHONY CHRISTOV (President)
Is art director and production designer of international fame at Pixar Animation Studios. He was the artistic director of "WALL • E" and the blockbuster "Finding Nemo"; He was also the set designer of "Cars - Engines roaring" and "The Incredibles - A normal family of superheroes" and project designer for various other projects. Prior to working at Pixar, Anthony worked in "Titan AE" for Fox Studios, "In The Land" for Universal Studios, and "The Rescuers Down Under" for Walt Disney Studios.
---
 RICARDO ROMIN 
Started at the audiovisual market in 1999. Studied "Executive Production - The Business of Cinema" classes, taught by AIC - International Film Academy, managing several independent productions with a focus on content distribution. Responsible for inaugurating the first co-production agreement between Brazil and China, nowadays he is working on the production of the Tamas & Rajas animation series, in which he works in partnership with Henan York Animation, as well as the channels Nickelodeon and Nick Jr.
---
MARCO PAVONE
Born in Naples where he graduated in philosophy in 1998. He began his career drawing for Naples' IL MATTINO and for RIZZOLI. From 1997, when he gained his diploma at the ACCADEMIA DISNEY, he drew stories and comic for MICKY MOUSE. In 1999 he move in Milan, entering into the world of animation. In 2002 he began directing and producting successfull animated music videos: TIROMANCINO, GINUWINE, COOLIO, SILVESTRI, CAPAREZZA, LE VIBRAZIONI, NEGRITA, SUBSONICA, BENNATO and many more.
For DISNEY he taken part in many projects, including the WITCH videoclip in 2007. In the same year, MTV bought the rights of his short film LAST SUBWAY. His works have been screened ay many festivals. He directed and produced three full-lenght movies: ZERO ZERO(2009), EXTRA(2013), and BURQA(2015),  the latter avaible on Netflix. In 2013 he presents from Venice festival red carpet his short musical movie Symphony of life, with Giovanni Allevi 
---
 The Jury of the Documentary section 
ROLAND SEJKO (President)
Born in Albania, he graduated in Foreign Languages and Literature at the Faculty of History and Philology at the University of Tirana. In 1991 he fled from Albania to board one of the ships of the great exodus to settle in Rome. Since 1995 he works at the Istituto Luce where, over the years, he worked on various projects in the Department of Film and then at the Historical Archive Luce where he is currently responsible for the enhancement of content and editorial activities of the film archive. In 2008 he made his debut as a screenwriter and director with the documentary feature film "Albania the facing country" produced and distributed by Istituto Luce and History Channel.His second feature "Anija", the ship, which was presented at the Turin Film Festival, won the David di Donatello for best documentary in 2013 and was a finalist at the Silver Ribbon.In 2014 he was curator and artistic director of all the videos of the exhibition "Luce the Italian imaginary" on display at the Vittoriano of Rome from 4 July to 15 December 2014. Also in 2014 he made the short film "The entry into war" based on a story by Italo Calvino, as an episode of the collective film "9x10 ninety", presented at the Authors Days at the 71th Venice International Film Festival. 
---
MASSIMILIANO BUZZANCA
Actor and director born in Rome. Graduated in Jurisprudence and after forming as actor at "Pietro Sharoff Academy" in Rome, Massimiliano Buzzanca joined the following courses:  specialization courses held by italian actress and acting coach Lena Lessing,  specialization courses for TV hosters under direction of Federico Moccia and organized by Mediaset. Workshop with International Acting Coach Ivana Chubbuck on "The power of actor". About his rich career, he makes many appereance between cinema, theatre and tv projects such "Il restauratore" directed by Enrico Oldoini, "Puccini" and "Ho sposato uno sbirro 2" both directed by Giorgio Capitani and  "Don Matteo 6" directed by Fabrizio Costa. His appearance in movies: "Il caso Enzo Tortora - Dove  eravamo rimasti?" directed by Ricky Tognazzi, "Fratelli Detective" with Enrico Brignano directed by Rossella Izzo, "Il figlio più piccolo" directed by Pupi Avati and "Una Madre" directed by Massimo Spano. He makes appearance in theatre such "Se chiamava Rugantino" , musical comedy with Franco Oppini,  Plautus "Maenechmi"  directed by Livio Galassi and "Alessandro Baricco's Novecento" directed by Sergio Ammirata.
---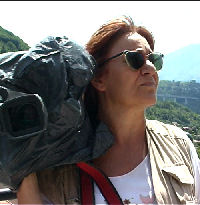 DONATELLA BAGLIVO
Donatella Baglivo, Director, producer and film editing expert At 18 make her debut as editor for first feature length movie. After editing works for RAI programs,  she founded  CIAK STUDIO at 19, becoming the youngest female entrepreneur in italian cinema. Donatella Baglivo began her intense activity in RAI and privates, doing editing for documentaries, surveys, adversting and teleplay. Many works includes: "La città del sole" (1973) directed by Gianni Amelio, a TV special about director Theodoros Anghelopulos (1979) (awarded at  50th Venice Film Festival) and another one about Eugène Ionesco. In 1981 she goes in America for nine movie about Hollywood Star System: James Dean, Montgomery Clift, Marlon Brando, etc. As director in 1982 makes a trilogy about Andrei Tarkovskij (competitor at 37th Cannes Film Festival)  also presented in 1984 at Harvard University of Cambridge (USA). In 1995, for centenary of cinema, Donatella begins to work for "I GRANDI DEL CINEMA ITALIANO", a biographic series project which are completed 50  titles of 100 expected (as 2016).In 2011 she receives Honoris Causa degree from Lviv National Academy of Arts in Ukraine. From 2015 director Donatella amplifies her activites on cultural and social disciplines in Italian and foreign countries, including researches, studies and education for young students around the world and  a cinema museum  dedicated to Andrej Tarkovskij in "Spazio Cinema Alfredo Bini", located at  Montalto di Castro (VT).
---
 ANJA STRELEC
Was born in 1985 in Varaždin, Croatia. She has a master degree both in audiovisual and film production as well as in audiovisual and film directing from French universities Paul Valery III in Montpellier and ESAV (Ecole supérieure d'audiovisuel) in Toulouse, France.
 Last six years she is working as a documentary filmmaker, editor, producer and film coordinator and selector of  film festivals. She directed and co-directed several documentaries which won number of awards and which were screened on more then 40 festivals worldwide, musems and televisions among which the most recent are "Home is where my age is" and "Abidance".  She is currently working in Brussels on different audiovisual projects as a journalist, editor and documentary film director as well a selector of long feature films on Festival International du Film de Bruxelles. Her most ambitous documentray is going to be shoot in Nepal this year.
---
 The Jury of the Fiction section
DANIELE FALLERI (President)
Director and author from Tuscany, Daniele Falleri is active between television and theatre projects. Directed Solo per amore, Al di là del lago and Una amore e una vendetta, well received television works. Directed for theatre the epic musical LaDivina Commedia. L'opera , tragicomedy Oddio Mamma!  starring Franca Valeri and his recent acclaimed work  Il marito di mio figlio. Falleri is one of few and rare italian authors represented at London, where currently is on stage his comedy My son's husband .
---
 ANDREA DE ROSA
After studies begins to performing as comedian specialized in monologue, especially in local and off theaters in and around Rome. In 2005 he was a finalist in the Emerging Cabaret Festival of Modena and the Charlot Award of Paestum. In the same year he was hired for the film by Fausto Brizzi "Night Before the Exams", grossing at box office. Since that moment, he divided between cinema, theater, TV and Web: he starred in films like "Love, Soccer and Other Catastrophes" directed by Luca Lucini, "Ultimi della classe" directed by Luca Biglione, "Aspromonte" by Hedy Krissane, "Ganja Fiction" by Mirko Virgili, " Una pallottola nel cuore" di Luca Manfredi and webseries " Youtuber$" and "Il camerlengo". This year he wrote and starred in  "Psicomico Revolution".
---
MARILU' DE NICOLA

Italian theatre and cinema actress. In theatre world we saw Marilù De Nicola in many plays like –"La gallina intelligente" , "La locandiera", "Il figlio della balia" and "Principessa Barambilla". Last year she made her cinematographic debut starring as Amalia role in "Una diecimila lire". She currently focused in theatre project "Giochi d'amore" under direction of her husband Claudio Jankowski. She made her cinematographic debut starring as Amalia role in "Una diecimilalire" directed by Luciano Luminelli and released in theaters September 6. The plot revolves around emigration: Vincenzo, a lucan child moving in Rome where his brother lives. The story is set during italian economic miracle in the Sixties, with exception of South of the country. Cast member include  Sebastiano Somma and Gerardo Placido.
---
La giuria della sezione Turismo
DUNDAR KESAPLI (President)
Since 20 years and beyond, is a journalist for many important turkish newspapers which perform meticoluos and international press service. Dundar worked for 10 years in RAI as consultant and opinionist for TV7. He's also reference for SkyTG24 and Tgcom24 and for many italian newspapers for international arguments. In 2009 for the first time in history of italian sport Dundar join as advisor for Unione Stampa Sportiva dello sport Italiano (USSI) and today he serve his role for foreign press. For 10 years and beyond Dundar is jury member for GOLDEN FOOT Awards at Montecarlo, where international football players are awarded; in 2007 for this event is President, making collaboration with Albert II, Royal Prince of Monaco. Awarded from many colleagues from foreign press as best sport journalist in 2015. Previously, in 2014, Dundar was awarded as best journalist thanks to his contributes in many articles about art, culture and tourism.
---
ISABELLA RADAELLI
Freelance journalist and blogger
It defines citizen of the world , she loves to travel and think that every place even what seems less beautiful , has something to send . When the airport you feel already on holiday , and when embarking on a new journey gets excited as if it were the first . The journey for her is 360 ° and crosses not only countries , but it touches the food , the people , the sunrises and sunsets . He is a partner of Neos - Associate Travel Journalists and has been elected to the Governing Council since 2017. He works for several newspapers and magazines regarding food and wine , tourism and well-being , and in 2011 opened a blog , The Lovely Girl ( www.isabellaradaelli.it , ) that speaks of life's pleasures , including just travel .
---
 MARIA ELENA CURZIO
She was born in Naples, obtained professional cook diploma. She grows in the kitchen of her grandmother Iolanda until she decides to turn her passion into a job, attending the kitchens of some well appreciated  chefs like Gennaro Esposito, patron of the Torre del Saracino -
(Seiano), Pietro D'Agostino, Patron of Capinera –(Taormina) to learn the value of the profession, hard work and respect for the ingredients. In 2011 she founded Association "Cuoche a Domicilio" (www.assocuoche.it), which she is president and was "baptized" by honorary member chef Gennaro Esposito. The purpose of the Association is to collect, preserve and divulge cooking traditional recipes, even those through handed down orally. The Association also collaborates with small entrepreneurs to enhance their excellence in Italy and overseas. Maria Elena collaborated for more than a year with Alice Cucina magazine as well as a live guest of the Casa Alice broadcasting, creating a thread that is also his motto: much return, little expense, Where recovery becomes an ingredient.
From its creativity, she published successful book "Una Cuoca a Domicilio"  edited by LT Editore.
She is Ambassador of the Italian Mediterranean Diet; Promoter f the Italian Mediterranean food and wine heritage, for economic and tourist cultural development, conferred by the association DAFNE Defense of Agriculture Food Nutrition and Enviroment.
---
 ELE RAIMONDO
With a Master Degree in Cinema, Television and Multimedia, travelled  around the world for her formation and work. As expert in copyright  she wrote various essays published in these years.
Since 2011 she's solicitor of Raiworld film and video production and author of first Cinema and Tourism Themed format applied to history movies. Passionate about history and travel, collaborates with most important International tourism references. 
---
The Jury of the Critic Section
ROMANO MILANI  (President)
Professional journalist since 1961, he was Head of Culture and Entertainment Service of the Journalistic Agency Italia; since 2000 he is General Secretary of the National Union of Italian Film Journalists and co-director of Cinemagazine, that he represented and  represents in major international festivals and in numerous juries. This year, for the third time, he chairs the Jury of the Festival Franco, reserved for films of French-speaking countries. He is also actively involved in photography linked to the cinema.
---
DAVIDE MANCA

Student of Oliviero Toscani and Giuseppe Rotunno, began his career as director of photography with his first feature film "Et in Terra Pax". Special mention to the "Nastri d'argento 2011", the Venice Film Festival 2010. He signed photograph of 12 feature films with international actors like: Gerarde Deparieu, Danny Glover, Rutger Hauer, Michael Madsen, Danny Trejo, Daryl Hannah, Vinnie Jones, Mischa Barton. His also the photography for television series such as: "I delitti del bar lume 2" (SKY), "Una Grande Famiglia 20 anni prima" and "Io tra 20 anni" (RAI). Prolific also in photography for the documentary, one of the most is famous "Bertolucci on Bertolucci" by Luca Guadagnino, "Quando c'era Berlinguer" and "i Bambini sanno" by Walter Veltroni, "Furio Scarpelli il racconto prima di tutto" by Francesco Martinotti and "Scola E..." by the sisters Scola..
---
ORIANA MAERINI
Degree in Political Science,  attended a journalism course print / radio / TV at the Training Center of the Institute of European Design Communication LTD  Rome.Member at Order of Journalists of Lazio and Molise since 1996. At 20 years old started her journalist career with  newspaper "La Nuova Sardegna" by Caracciolo Group. Then became film critic for bimonthly film culture newspaper "FILM" directed by Flavio Vergerius and monthly magazine SET. Wrote film and costume at following periodicals: "EPOCA" "COSMOPOLITAN "GIOIA" BELLA, MAX, MAXIM, PANORAMA, ALLURE. Co-author, together with the journalist Mariano Sabatini, of interview-book"Intervista a MARIO MONICELLI - L'insostenibile leggerezza del cinema". Worked at Press of Pitigliano Film Festival. She helped  development of medium length film" Ai confini della città"  (Golden Globe 1998) directed by Roberto Di Vito. In 1995 / 96 issued  critical  film sheets for  film festival "Badlands - la rabbia giovane " promoted by Municipality of Fiumicino and the association  "Fronte del porto". She led in 2006 she led, alongside with Valerio Caprara  (film critic at "Il Mattino" Naples), a conference on communication during festival "A corto di donne". Also jury member at following festivals:"Lazio, terre, genti e miti"  promoted by Corecom and  Region of Lazio, with chairman Giuliano Montaldo. Cortofonino - festival of short films made with mobile - promoted by Liberailota of Terni. Currently she works at the online newspaper Affari Italiani. Director of online film magazine www.Cinebazar.it
---
The Festival of the Sea Festival
 ROSSELLA DIACO
Her passion for radio was born in school, and after her entrance in radio in 1983,  become winner "Supersfidadj" Raistereouno show. Since that moment her career extended from tv to event hosts always organized by Rai. Currently she is radio speaker at Isoradio.  
---
 FABRIZIO ORSOMANDO
His film "The Light Side" has been selected at festival in Bari and Lyon in France. Lover of limited zones, he creates stories narrating precisely those unique moments when borders cease to be defined and clear. Hence the idea (made from "specchi violenti" in 2008) to create a unique kind of live performance that combines film and theater in unusual location. He calls the genre "live action movie". This genre is now another projects like "diciannove.zerotre", his latest work, already on stage with twenty replications in 2015, he'll be back on stage next July in an abandoned shed. 
---
 IRENE BERTOGLIO
Writer, educator graphologist and writer educator and graphic expert. She held numerous courses for teachers and experimental projects for Primary and Secondary Schools. She managed for several years a structure for education and training as non profit entrepreneur.
---
... see the curricula of the other jurors of this last section at the site:
 https://festivaldelmare.jimdo.com/giuria-del-video-festival-2017