In this section we publish the Jury 
of the festival edition 2020.
The Jury 2020
The Jury of the Animation section 
GIANLUCA DENTICI (President)
Gianluca  Dentici,  Senior  Compositor  and  VFX  Supervisor  gained  his  technical  and  artistic  skills  at  the  European  Academy  of  Special  Effects  directed  by  three-time  Academy Award Carlo Rambaldi. Immediately  after  his  graduation  he  went  to  Los  Angeles  to  practice  his  technical  knowledge  and  attend  seminars  by  post-productions  and  visual  effects  companies,  also meeting manufactures of special shooting equipments.During  his  visit  he  has  come  in  contact  with  professionals,  technicians  and  companies  as  Kodak,  Cinesite,  General  Lift,  House  of  Moves,    Cyber  FX,  Photron,  Dreamworks, 525.post,  Pixel Magic, Netter Digital, Planet Blue, An-Amazation, Silicon Grail, Hydroflex, Panavision, Wescam, Mediamation.During his pas experience in Italy Gianluca Dentici was one of the most well-known visual effects supervisors and worked for different companies.On 2009 he was certified by Mark Roberts Motion Control, UK, on the Milo Motion control rig.Gianluca  Dentici  is  a  member  of  the  Visual  Effects  Society  and  the  Italian  Motion  Picture Academy  and  was  nominated  three  times  for  the  David  di  Donatello Award  for  the  best visual  effects  category.  Gianluca  Dentici  and  the  entire  vfx  crew  of  the  short  movie  "Sophie's  Fortune"  directed  by  Chris  Cronin  won  the  best  visual  effects  award  at  the Portsmouth  International  Film  Festival  -  2014.  Gianluca  Dentici  has  been  awarded  at  International  Tour  Film  Festival  2015  with  the  Career  award.  Gianluca Along  with  the  entire crew at MPC and WETA won the Academy Award for the "best visual effects" for Disney's Jungle Book as well as the VES and BAFTA awards.
---
RICARDO ROMIN
Started at the audiovisual market in 1999. Studied "Executive Production - The Business of Cinema" classes, taught by AIC - International Film Academy, managing several independent productions with a focus on content distribution. Responsible for inaugurating the first co-production agreement between Brazil and China, nowadays he is working on the production of the Tamas & Rajas animation series, in which he works in partnership with Henan York Animation, as well as the channels Nickelodeon and Nick Jr.
---
 MARCO PAVONE
Born in Naples where he graduated in philosophy in 1998. He began his career drawing for Naples' IL MATTINO and for RIZZOLI. From 1997, when he gained his diploma at the ACCADEMIA DISNEY, he drew stories and comic for MICKY MOUSE. In 1999 he move in Milan, entering into the world of animation. In 2002 he began directing and producting successfull animated music videos: TIROMANCINO, GINUWINE, COOLIO, SILVESTRI, CAPAREZZA, LE VIBRAZIONI, NEGRITA, SUBSONICA, BENNATO and many more.
For DISNEY he taken part in many projects, including the WITCH videoclip in 2007. In the same year, MTV bought the rights of his short film LAST SUBWAY. His works have been screened ay many festivals. He directed and produced three full-lenght movies: ZERO ZERO(2009), EXTRA(2013), and BURQA(2015),  the latter avaible on Netflix. In 2013 he presents from Venice festival red carpet his short musical movie Symphony of life, with Giovanni Allevi 
---
SUKHWA HONG
Studied buddhist wooden sculpture under Korean national human asset and pointed a last student.
Majored Film and New media design and studied several media and business course established his own studio in 2004.
In charge of co-production programs among Brazil, India, Italy, Norway, Malaysia, USA and China.
Established a company in USA with Will Vinton, An American Oscar winner and developing a feature animated film.
Has been exploring good ideas from all around the world and leading his investment partners to develop the IP together.
Distributing audio video program internationally and Representing IRIB, the biggest broadcaster in Middle East for International distribution
Recently, establishing a VOD platform in Indonesia, the 4th largest population country.
---
The Jury of the Documentary section
ROLAND SEJKO (president)
Born in Albania, he graduated in Foreign Languages and Literature at the Faculty of History and Philology at the University of Tirana. In 1991 he fled from Albania to board one of the ships of the great exodus to settle in Rome. Since 1995 he works at the Istituto Luce where, over the years, he worked on various projects in the Department of Film and then at the Historical Archive Luce where he is currently responsible for the enhancement of content and editorial activities of the film archive. In 2008 he made his debut as a screenwriter and director with the documentary feature film "Albania the facing country" produced and distributed by Istituto Luce and History Channel.His second feature "Anija", the ship, which was presented at the Turin Film Festival, won the David di Donatello for best documentary in 2013 and was a finalist at the Silver Ribbon.In 2014 he was curator and artistic director of all the videos of the exhibition "Luce the Italian imaginary" on display at the Vittoriano of Rome from 4 July to 15 December 2014. Also in 2014 he made the short film "The entry into war" based on a story by Italo Calvino, as an episode of the collective film "9x10 ninety", presented at the Authors Days at the 71th Venice International Film Festival. 
---
SIMONA TARTAGLIA
She began her career in 1986 as assistant director, especially alongside Giorgio Capitani, then to choose the profession of casting director, alongside directors such as Fabrizio Costa, Lodovico Gasperini, Stefano Reali, Paul Poeti, Vittorio Sindoni, Giorgio Capitani. She is very active as a coach, working with several acting schools, conducting classes and workshops. For the International Tour 
Film Festival she is the project manager Shootin' Tour.
---
ERMANNO FELLI
He studied philosophy in Rome at La Sapienza University, filmmaking at the VGIK of Moscow and film production in Berlin. He directed several short and feature films, most of them awarded in film festival around the world. He is author of the novel "Tango Theran".
---
MASSIMILIANO BUZZANCA
Actor and director born in Rome. Graduated in Jurisprudence and after forming as actor at "Pietro Sharoff Academy" in Rome, Massimiliano Buzzanca joined the following courses:  specialization courses held by italian actress and acting coach Lena Lessing,  specialization courses for TV hosters under direction of Federico Moccia and organized by Mediaset. Workshop with International Acting Coach Ivana Chubbuck on "The power of actor". About his rich career, he makes many appereance between cinema, theatre and tv projects such "Il restauratore" directed by Enrico Oldoini, "Puccini" and "Ho sposato uno sbirro 2" both directed by Giorgio Capitani and  "Don Matteo 6" directed by Fabrizio Costa. His appearance in movies: "Il caso Enzo Tortora - Dove  eravamo rimasti?" directed by Ricky Tognazzi, "Fratelli Detective" with Enrico Brignano directed by Rossella Izzo, "Il figlio più piccolo" directed by Pupi Avati and "Una Madre" directed by Massimo Spano. He makes appearance in theatre such "Se chiamava Rugantino" , musical comedy with Franco Oppini,  Plautus "Maenechmi"  directed by Livio Galassi and "Alessandro Baricco's Novecento" directed by Sergio Ammirata.
---
The jury of Fiction section
DANIELE FALLERI (president)
Director and author from Tuscany, Daniele Falleri is active between television and theatre projects. Directed Le tre rose di Eva, Il commissario Manara, Solo per amore, Al di là' del lago. well received television works. Directed for theatre the epic musical LaDivina Commedia. L'opera , tragicomedy Oddio Mamma!  starring Franca Valeri and his recent acclaimed work  Il marito di mio figlio. Falleri is one of few and rare italian authors represented at London, where currently is on stage his comedy My son's husband . In 2019 he is awarded at Tulipani di Seta Nera Film Festival with the short film La goccia e il sale.  His latest work is the upcoming feature thriller film Dietro La Notte starring Stefania Rocca and Fortunato Cerlino
---
ANDREA DE ROSA
After studies begins to performing as comedian specialized in monologue, especially in local and off theaters in and around Rome. In 2005 he was a finalist in the Emerging Cabaret Festival of Modena and the Charlot Award of Paestum. In the same year he was hired for the film by Fausto Brizzi "Night Before the Exams", grossing at box office. Since that moment, he divided between cinema, theater, TV and Web: he starred in films like "Love, Soccer and Other Catastrophes" directed by Luca Lucini, "Ultimi della classe" directed by Luca Biglione, "Aspromonte" by Hedy Krissane, "Ganja Fiction" by Mirko Virgili, " Una pallottola nel cuore" di Luca Manfredi and webseries " Youtuber$" and "Il camerlengo". This year he wrote and starred in  "Psicomico Revolution".
---
MARILU' DE NICOLA

Italian theatre and cinema actress. In theatre world we saw Marilù De Nicola in many plays like –"La gallina intelligente" , "La locandiera", "Il figlio della balia" and "Principessa Barambilla". Last year she made her cinematographic debut starring as Amalia role in "Una diecimila lire". She currently focused in theatre project "Giochi d'amore" under direction of her husband Claudio Jankowski. She made her cinematographic debut starring as Amalia role in "Una diecimilalire" directed by Luciano Luminelli and released in theaters September 6. The plot revolves around emigration: Vincenzo, a lucan child moving in Rome where his brother lives. The story is set during italian economic miracle in the Sixties, with exception of South of the country. Cast member include  Sebastiano Somma and Gerardo Placido. 
---
PIETRO DELLE PIANE
Italian actor and voice actor.
At 15 years old he started attending a theatrical workshop in the city of the Bruzi. After completing university studies and graduating in law, he moved permanently to Rome in 1998. In 2001 he attended the acting and directing school under guidance of Fioretta Mari with whom he made his debut in several Italian theaters. In 2004 he joined Internships / Seminars organized by the "Teatro Stabile di Reggio Calabria" with Steven Berkoff and Susan Strasberg.
During his career he worked with several renowned actors and directors like Nino Manfredi, Giancarlo Giannini, Gerard Depardieu, Diego Abatantuono, Franco Nero, Valeria Bruni Tedeschi, Ricky Tognazzi, Mimmo Calopresti, Gabriele Salvatores, Claudio Bonivento, Alexis Sweet, Enrico Oldoini, Marco Visalberghi and Stelvio Massi. For several years he has worked as a voice actor at Sefit C.D.C. studios of Rome. He also received these following awards: Kolossos Prize in 2016, Jury Cultural Classic Award 2012 for "Lo Sposalizio", Elefante D'Oro Award in 2010 and Colosseo D'Oro Award in 2002
---
The Jury of the Tourism section
DUNDAR KESAPLI (president)
Since 20 years and beyond, is a journalist for many important turkish newspapers which perform meticoluos and international press service. Dundar worked for 10 years in RAI as consultant and opinionist for TV7. He's also reference for SkyTG24 and Tgcom24 and for many italian newspapers for international arguments. In 2009 for the first time in history of italian sport Dundar join as advisor for Unione Stampa Sportiva dello sport Italiano (USSI) and today he serve his role for foreign press. For 10 years and beyond Dundar is jury member for GOLDEN FOOT Awards at Montecarlo, where international football players are awarded; in 2007 for this event is President, making collaboration with Albert II, Royal Prince of Monaco. Awarded from many colleagues from foreign press as best sport journalist in 2015. Previously, in 2014, Dundar was awarded as best journalist thanks to his contributes in many articles about art, culture and tourism.
---
ISABELLA RADAELLI
Freelance journalist and blogger.
It defines citizen of the world , she loves to travel and think that every place even what seems less beautiful , has something to send . When the airport you feel already on holiday , and when embarking on a new journey gets excited as if it were the first . The journey for her is 360 ° and crosses not only countries , but it touches the food , the people , the sunrises and sunsets . He is a partner of Neos - Associate Travel Journalists and has been elected to the Governing Council since 2017. He works for several newspapers and magazines regarding food and wine , tourism and well-being , and in 2011 opened a blog , The Lovely Girl ( www.isabellaradaelli.it , ) that speaks of life's pleasures , including just travel. She received in 2019 the Press Israel Award from Israel Ministry Tourism,  where she ranked as 2nd place in newspaper category.
---
 MARIA ELENA CURZIO
She was born in Naples, obtained professional cook diploma. She grows in the kitchen of her grandmother Iolanda until she decides to turn her passion into a job, attending the kitchens of some well appreciated  chefs like Gennaro Esposito, patron of the Torre del Saracino -
(Seiano), Pietro D'Agostino, Patron of Capinera –(Taormina) to learn the value of the profession, hard work and respect for the ingredients. In 2011 she founded Association "Cuoche a Domicilio" (www.assocuoche.it), which she is president and was "baptized" by honorary member chef Gennaro Esposito. The purpose of the Association is to collect, preserve and divulge cooking traditional recipes, even those through handed down orally. The Association also collaborates with small entrepreneurs to enhance their excellence in Italy and overseas. Maria Elena collaborated for more than a year with Alice Cucina magazine as well as a live guest of the Casa Alice broadcasting, creating a thread that is also his motto: much return, little expense, Where recovery becomes an ingredient.
From its creativity, she published successful book "Una Cuoca a Domicilio"  edited by LT Editore.
She is Ambassador of the Italian Mediterranean Diet; Promoter f the Italian Mediterranean food and wine heritage, for economic and tourist cultural development, conferred by the association DAFNE Defense of Agriculture Food Nutrition and Enviroment.
---
The Jury of the Critic Section
ROMANO MILANI  (President)
Professional journalist since 1961, he was Head of Culture and Entertainment Service of the Journalistic Agency Italia; since 2000 he is General Secretary of the National Union of Italian Film Journalists and co-director of Cinemagazine, that he represented and  represents in major international festivals and in numerous juries. This year, for the third time, he chairs the Jury of the Festival Franco, reserved for films of French-speaking countries. He is also actively involved in photography linked to the cinema.
---
ANTONIO FLAMINI
Born in Rome, graduated from the Manfredi Azzarita high school and graduated in Economic Political Science at the University of Rome La Sapienza. Expert and passionate about Italian and international cinema. CEO of ITALE20, a leader in consulting services and organization of film promotion events and press office based in Rome (www.itale20.it) with the organization of more than 300 promotional events including premieres, film screenings and special events for the most important distributions operating in Italy including: Warner Bros., Twenty Century Fox, Universal Pictures, Walt Disney Company, Raicinema-01 Distribution, Medusa, Lucky Red, Eagle Pictures, Notorious, Bim, Vision Distribution, etc. Since 2011 he served as artistic director, organizer and artistic consultant of many film festivals including: NORDIC FILM FEST, ROMAFRICA FILM FESTIVAL, TERRA DI SIENA INTERNATIONAL FILM FESTIVAL, INDIA FILM FEST, OSTIA INTERNATIONAL FILM FESTIVAL, RIETI AND SABINA FILM FESTIVAL, INTERNATIONAL FILM FESTIVAL OF THE ROMAN CASTLES, SABAUDIA FILM.COM-MEDIA FESTIVAL. He is also the representative for Italy of CINEMA ITALY-ITALIAN FILM FESTIVAL MIAMI.
---
DAVIDE MANCA

Student of Oliviero Toscani and Giuseppe Rotunno, began his career as director of photography with his first feature film "Et in Terra Pax". Special mention to the "Nastri d'argento 2011", the Venice Film Festival 2010. He signed photograph of 12 feature films with international actors like: Gerarde Deparieu, Danny Glover, Rutger Hauer, Michael Madsen, Danny Trejo, Daryl Hannah, Vinnie Jones, Mischa Barton. His also the photography for television series such as: "I delitti del bar lume 2" (SKY), "Una Grande Famiglia 20 anni prima" and "Io tra 20 anni" (RAI). Prolific also in photography for the documentary, one of the most is famous "Bertolucci on Bertolucci" by Luca Guadagnino, "Quando c'era Berlinguer" and "i Bambini sanno" by Walter Veltroni, "Furio Scarpelli il racconto prima di tutto" by Francesco Martinotti and "Scola E..." by the sisters Scola.
---
CARLOTTA BOLOGNINI
Raised on the sets of dad Manolo, Producer, and on those of uncle Mauro, director. She worked in the branch of production in several films directed by Dino Risi, Alberto Sironi, Lina Wertmuller, Claude Goretta, Coluche. She wrote the book "Manolo Bolognini, my life in cinema", conceived and produced the documentary "Figli del Set" "Children of the set", and collaborates as member of the Mauro Bolognini Cultural Center, collaborates with the Alfredo Lo Piero School of Art in Catania. She served as President of the Jury in mostly  film festivals based in Italy: CortoDino De Laurentiis Festival, Premio Anna Magnani , Premio Luciano Martino, Aqua Film Festival, Lariano Theater Festival. Also she served as Artistic director of the theatrical comedy "Emma B", Line Producer for the short film Burning Red and Event organizer at Casa del Cinema. She received "Donna che fa la differenza 2014" Award in Campidoglio; "Donna nell'Arte" Award ,  "Gianni Di Venanzo" Award, Cinema Anzio Special Award, "Dea alata" in Venice,   "Circeo Arte Cultura" Special Award, Premio Raf Vallone,  ITFF Special Award , CortoDino De Laurentiis Award, "Musa d'argento" Award, Award in memory of Mauro Bolognini and Manolo Bolognini.
---
The Jury of section Feature Film
CHRISTIAN MARAZZITI (President)
Actor, director and screenwriter. He attended various stages and acting workshops. He began his career as actor with "Italiani" directed by Maurizio Ponzi, premiered at the Berlin Film Festival in 1996. He then appeared in several feature films and TV productions for the Italian market. He worked with acclaimed italian directors like Pupi Avati and Alessandro D'Alatri. He was nominated for Globo d'Oro Award a actor and producer for the short film "Pollicino" (2012). He directed and starred in several short films, including: "No Limits", winner of the 2016 First Cine Fiesta Italia Award (Santa Fe, Mexico) and shortlisted at the Los Angeles Short Film Fest in 2014 (Los Angeles) - USA); "Quando dico no è no!", which received special mentions at several film festivals like Reggio Calabria Film Festival,  Cortina Comedy Festival, Civita Bagnoregio Festival and Massimo Troisi Festival. He made his feature film debut "E-bola", winning awards at the Ischia Film Fest, Cinema Capri - Hollywood 2015 Cape Town Film Festival, Rome Film Festival 2015 and Terra di Siena Film Festival. In 2018 his debut feature comedy film "Sconnessi" premiered  and awarded in italian and european film festivals, and is being distributed in several countries, including China.
---
MARIO PARRUCCINI
He works in the entertainment industry since 1995 and in video production since 2002. Trained between Rome and New York, worked as screenwriter, director, cinematographer, film editor and colorist receiving international awards around the world. Graduated at Rome Film School as director and AVID MC film editor, he studied cinematography in New York under guidance of Peter Stein and attended master studies with the best teachers of New York University. Currently he works with some of the best known international production companies as director, cinematographer, film editor, screenwriter and colorist. 
---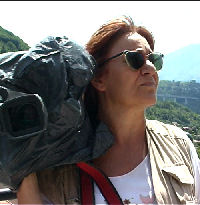 DONATELLA BAGLIVO
Donatella Baglivo, Director, producer and film editing expert At 18 make her debut as editor for first feature length movie. After editing works for RAI programs,  she founded  CIAK STUDIO at 19, becoming the youngest female entrepreneur in italian cinema. Donatella Baglivo began her intense activity in RAI and privates, doing editing for documentaries, surveys, adversting and teleplay. Many works includes: "La città del sole" (1973) directed by Gianni Amelio, a TV special about director Theodoros Anghelopulos (1979) (awarded at  50th Venice Film Festival) and another one about Eugène Ionesco. In 1981 she goes in America for nine movie about Hollywood Star System: James Dean, Montgomery Clift, Marlon Brando, etc. As director in 1982 makes a trilogy about Andrei Tarkovskij (competitor at 37th Cannes Film Festival)  also presented in 1984 at Harvard University of Cambridge (USA). In 1995, for centenary of cinema, Donatella begins to work for "I GRANDI DEL CINEMA ITALIANO", a biographic series project which are completed 50  titles of 100 expected (as 2016).In 2011 she receives Honoris Causa degree from Lviv National Academy of Arts in Ukraine. From 2015 director Donatella amplifies her activites on cultural and social disciplines in Italian and foreign countries, including researches, studies and education for young students around the world and  a cinema museum  dedicated to Andrej Tarkovskij in "Spazio Cinema Alfredo Bini", located at  Montalto di Castro (VT). 
---